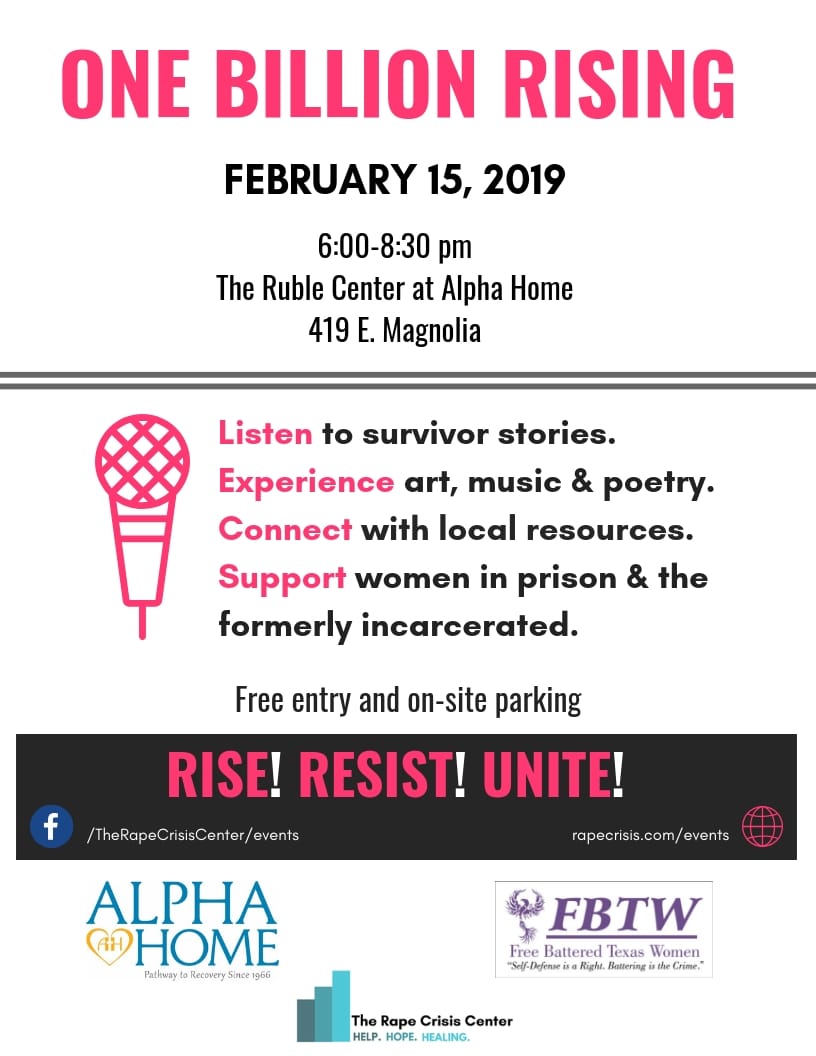 ONE BILLION RISING is a global movement to end rape and sexual violence against women. San Antonio's event is sponsored by the Rape Crisis Center, Free Battered Texas Women, and the Alpha Home: Friday, February 15 from 6 to 8:30 pm, the Ruble Center, 419 E. Magnolia Ave..
SINGING FOR A GOOD REASON: Every time I write/sing a song calling for a solution to one of the many problems facing our country/planet I feel like I am pushing back against those who are responsible for the mess we're in. When you sing with me, I feel like we are uniting together to right the wrong.
The "billion" refers to the UN statistic that one in three women will be raped or beaten in her lifetime, or about one billion.
Come to find out what we can do together. Come sing with me from 6:00 to 6:30. Stay to hear the speakers.
More info here: https://www.facebook.com/events/140431580210602/
*

*
*
New Recordings

The story of my life in 5 minutes and 35 seconds
Play this song and slow dance with your sweetie

*
*
Late night drama in a seedy Chicago pool hall
A humorous look at insecurity
Seems to me this is how life works.
Speaking out for refugees who
step across our southern border

and

For our foremothers
dulcimer & voice
*****************************************************************************
Click picture for story.

Music Students and Teachers from Center for Refugee Services (CRS)

Field Trip to San Antonio Symphony June 10, 2017
Click HERE to listen to a report about the Music & Drum Circle at CRS that recently aired on KSTX 89.1.
Click HERE to see the Kens 5 TV show about our students performance at Ten Thousand Villages.
To see our facebook page look for Music & Drum Circle @ Center for Refugee Services.
*
*
*

A visit to my website would not be complete without a visit to my house!
Click the picture

for your musical video tour of my "Teeny Tiny House."